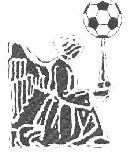 St. Mike's S.C.
Links
Click On A Question To Read The Answer
---
St. Michael's Soccer Club is open to those 18 years and older, regardless of skill level and experience. You can either register as an individual player and be placed on a squad, or you and your friends can register your existing team (minimum of 15 players per team). Our goal is to make the game of soccer accessible to anyone wishing to play.
---

Where and when will the games be played?
The 2004 season will start on May 16th and run until the end of September/2004 The games will be played on Sunday mornings/afternoons at either Father Michael McGivney High School ( click here for map) or Middlefield Collegiate Institute (click here for map) located in Markham, Ontario, just north of McCowan and Steeles. Please note that the red star on the maps indicates where the schools are located. Game times will be at either 10a.m., 11a.m. 12p.m., 1p.m. or 2p.m. Please do not call either high schools to inquire about the league as they have no affiliation with the soccer club. We will also be continuing the Archangel Cup Tournament for the 2004 season which will take place on Saturday mornings and Sunday afternoon thoughout the season.
---
Cost of registration?
The cost of registration for the 2004 season is as follows. Teams or players who wish to supply their own uniforms or use their uniforms from previous seasons will be required to pay $125.00/player. Teams or players who wish for the league to provide them with uniforms for the upcoming season will be required to pay $150.00/player. Uniforms provided by the league include jersey, socks and shorts. It is mandatory that all players wear shin guards.
---
Rules of the game?
Regular season games will consist of two 45-minute halves (depending if players are ready to start the game at the scheduled time). Changes can be made on goal kicks or your teams own throw-in. Points for the season are awarded as follows: Win = 3pts, Tie = 1 pt Loss = 0pts.
Tournament games will consist of two 20 minutes halves. The top 2 teams in each division will advance to the next round. In the event of a tied match after regulation time, the game will be determined by penalty kicks. Only those players on the field after regulation time will be eligible to take penalty kicks.
Players will be fined for incurring infractions on the field that result in a card. Players receiving a red card (or 2 accumulated yellow cards) will be required to pay a $30 fine. Subsequent yellow cards will incur a $25 fine, and a red card will incur a $50 fine. Players WILL NOT be allowed to participate in any further matches until all outstanding fines are paid.
---

How do I register?
You can CLICK HERE to download a 2004 Outdoor Registration form into Micrsoft Word. You can also contact us via email and request for an application to be mailed or faxed to your residence or work by clicking here (be sure to include your complete address and telephone number in your e-mail). Finally, you can telephone the club at (905) 479-2247 to request an application.
---

How do I contact St. Michael's Soccer Club?
We can be reached at (905)479-2247. If you wish to drop us an e-mail, our address is stmikesoccer@rogers.com or click here for a direct link to our e-mail. If you wish to contact us via mail, our mailing address is
1661 Denison Street, Markham Ontario, Box 76623, L3R 6E0.
Please feel free to contact us at any time with any questions you may have about the upcoming soccer season.